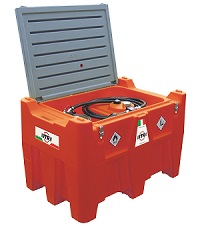 ITR fuel tanks and relative portable fuel filling groups are entirely developed and manufactured in Italy. 
The wide range includes transportable tanks in polyethylene from 55 L to 980 L for transporting diesel, petrol, oil, and Ad Blue. 
ITR fuel tanks are distinguished by their compactness, toughness, and lightness, characteristics that make them easy to use and transport.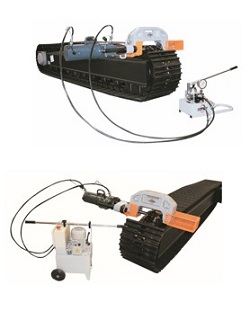 The portable hydraulic presses are designed to simplify the fitting and removal of tracks on earth moving and agricultural machines. 
ITR portable hydraulic presses are designed and produced entirely in Italy and enable quick, safe operations with minimum physical effort by users. 
The complete system includes a hydraulic press and the choice of a manual pump or electrical drive unit. 
On request, USCO ITR can supply a range of special equipment designed specifically for the different types of tracks being maintained.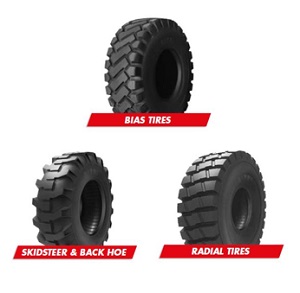 Tires for wheeled equipment for the mining, construction, agricultural and industrial sector.
ITR offers a full range of tires with a wide range of models, both of which bias & radial types, designed for a variety of working conditions.
Tires are manufactured under rigid quality control procedures in state of the art production facilities.

Tires manufacturing technology ensures premium casing blended with durable compounds which provide solid traction, long life and excellent resistance to impact punctures.
ITR LUBRICANTS Product line include Engine oils, Transmission oils, Hydraulic oils, Gear oils, Coolants, Specialty products & Greases for Heavy / Off highway Equipment's, Agriculture, Industrial & Automotive sector.
ITR's state-of-the-art manufacturing facility in UAE (United Arab Emirates) guarantees top quality standards. The manufacturing unit has an area of 20.799sqm. The current capacity of the plant is 54.000 MT/pa (Metric ton/ per annum) with a fully equipped laboratory and other infrastructure facilities.
ITR products are formulated exclusively with highly refined lube base stock and additives used from top brands. The production team and management have vast years of experience in the field of petroleum refining, petrochemical plant operation, process designing, lube oil blending and research and development of lubricants. 
The strength of the range is represented by products like Hydraulic oil AW or HLP, Transmission oil for Excavators and heavy duty machinery meeting Cat TO4/ Allison C4 specifications, Diesel Engine oil with API (American Petroleum Institute) grades up to CJ4 or CK4.